UPCOMING ASALH EVENTS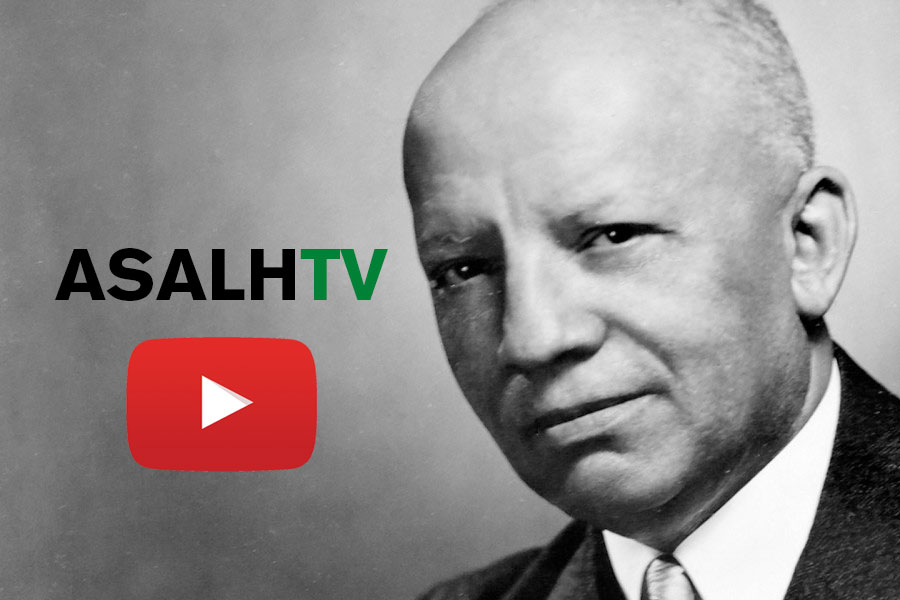 IN RETROSPECT AND PROSPECT
Topics In African American History, In The Spirit Of Woodson And Mary Mcleod Bethune
ALL UPCOMING EVENTS
Click the above buttons to find events by category.
BRANCH EVENTS: ASALH is observing social distancing and all in-person meetings and events, where possible, will be virtual.
COMMUNITY EVENTS: Please check with our community partners for any updates to these events.
1 event,
Annual Members Meeting Monday, September 26, 2022 7:30 - 9:30 p.m. EST Registration is required 24 hours prior to the meeting for all voting members This meeting will be held […]
23 events,
107th Annual Meeting and Conference
The ASALH Annual Conference is an occasion to explore the history and culture of people of African descent. Our conference brings together more than one thousand people, including educators, students, community builders, business professionals, and others who share an abiding interest in learning about the contribution of African Americans to this nation and the world.
Attend in the In-Person Author's Book Signing at the 107th Annual Meeting and Conference on Thursday, September 29, 2022 from 6:30 p.m. – 8:30 p.m. CST
19 events,
This Roundtable explores Treva Lindsey's publication, America, Goddam: Violence, Women, and The Struggle for Justice.
Picturing Freedom: African Americans & Their Cars, A Photographic History
This Plenary Session features panelists Eboni Preston Goddard, Tina Naremore Jones, Josephine Bolling McCall, Phillip Howard, Joshua Jenkins, and Meg Ford.
Storming Caesars Palace challenges the pernicious lie of the "Welfare Queen," and highlights the visionary leadership of low-income grassroots organizers whose courage, tenacity and dreams could not be quashed, against all odds.
This Plenary Session features panelists Bertis D. English, Eddie R. Cole, Crystal R. Sanders, Adam Harris, and Jelani M. Favors.
This Plenary Session features panelists Cheryl T. Grills, Veronica T. Watson, Lewis H. Rogers Jr., and Joseph L. Green.
Sign up to give a three minute presentation on your dissertation topic. Top three will get prizes.
FANNIE LOU HAMER'S AMERICA, a documentary producer by her grand-niece Monica Land, is a portrait of a civil rights activist and the injustices in America that made her work essential.
14 events,
This roundtable explores Julius Fleming's publication, Black Patience: Performance, Civil Rights, and The Unfinished Project of Emancipation.
The ruling that rendered more than 200,000 people stateless, without nationality, identity or a homeland, a young attorney named Rosa Iris mounts a grassroots campaign, challenging electoral corruption and advocating for social justice.
BARBARA LEE: SPEAKING TRUTH TO POWER is an intimate and inspiring portrait of Representative Barbara Lee, a champion of civil rights and a steadfast voice for human rights, peace, and economic and racial justice in the U.S. Congress.
This Presidential Session features panelists W. Marvin Dulaney, Chastity Bradford, DeWayne Ellis, and Tom Ellison
This Key Session features panelists Maranda C. Ward, Vanessa Northington Gamble, Valin S. Jordan, and Dr. Yolanda Lewis-Ragland.
This Key Session features panelists Daina Ramey Berry, Tanisha Ford, Ashley Farmer, KT Ewing, and Anastasia Curwood.
Two films on Africatown, Alabama
1 event,
It is the story of the Monticello Plantation in Virginia, the estate where Thomas Jefferson wrote letters espousing the urgent need for liberty while enslaving more than four hundred people. […]
1 event,

Program begins at 1pm Topic: Mental Health illnesses and Healthcare What are the Socioeconomic Disparities in Black Mental Healthcare? Saturday October 15, 2022 12:30pm
1 event,
ASALH Greater Kansas City Black History Study Group Branch Monthly Meeting October 18, 2022 6pm CST